41% of the UK population listens to podcasts each month.
That's probably the headline finding from some new research that will be of interest to everyone interested in the UK audio space. Edison Research, the company that has probably lead the field in US audio and podcast research in recent years, has published its first UK set of data in collaboration with Bauer Media and Spotify UK.
What makes this especially interesting is that for the first time, we can properly compare US results, as well as those from a basket of other English-speaking countries that Edison has separately researched, with the UK. While the UK has had plenty of its own data – including MIDAS from RAJAR, and reports from the regulator Ofcom – this research is the first that we can properly compare between markets because it has been designed as such.
Edison Research says that they hope that this will be the first of a series of annual surveys.
Specifically, they conducted a national telephone survey of 1,000 respondents in the UK aged 16+ during Q4 2021, weighting the data to the UK population.
The full public results are available here as a 60 page PDF, where you can also see a 30 minute video of the webinar of the launch of these results.
The Infinite Dial covers a lot of hardware usage that I'm not going to dwell on much, so I urge you to look at the full report or video linked above. I'm instead going to pull out some of the more interesting facts I saw in the 60 page slide deck.
Radio
I thought it was useful to include this, because this shows how different methodologies will give different numbers. In Edison Research's telephone survey, simply asking respondents if they've listened to the radio in the last week reveals 81% say they have. Regular readers will recall that RAJAR has a figure of 89% in the recent Q3 2021 data. But of course RAJAR does much more work in prompting respondents to think harder about whether they did actually listen to the radio. So this is really a reminder that different survey methodologies will give you different results. Nonetheless, as I wrote yesterday, radio remains very strong in this country, especially when you compare it to other countries Edison Research has surveyed.
Australia notably remains a very strong radio market.
Note that the Canadian numbers presented here are for 18+ (due to the legalities of conducting surveys there). Also, Larry Rosin, President of Edison Research noted in his video presentation that Edison Research regularly publishes 12+ numbers for the US, but they've re-run the numbers as 16+ for this comparison, so that might explain any small differences you see between these numbers and previously reported 2021 figures for the US.
The report goes into smart speaker in some detail, but this slide is interesting in showing how much more radio ownership there remains in the UK compared with the US. The "overlap" between radios and smart speakers is consistent, but it does seem that while nearly a quarter of American homes have neither, it's significantly less in the UK.
Online Audio
More of the UK population has listened to some form of online audio (streaming radio, streaming music, podcasts etc.), than in the US which is interesting. I do think that UK radio stations were faster and better at introducing streaming services than in the US, where in the early days, streaming radio was slow to get off the ground – often bizarrely excluding advertising even for commercial stations.
I would posit that while RadioPlayer's share is slow (see subsequent chart), it had a big impact on getting UK radio groups streaming audio, alongside the work the big commercial groups and the BBC have done to promote their own apps and services.
Here's the equivalent based on weekly listening, which shows a similar pattern, with two thirds of people listening weekly.
Cars
Here's a useful chart to remind people that not everyone is streaming music all the time. What do people use to listen to audio in the car? Here are the numbers for the UK and the US.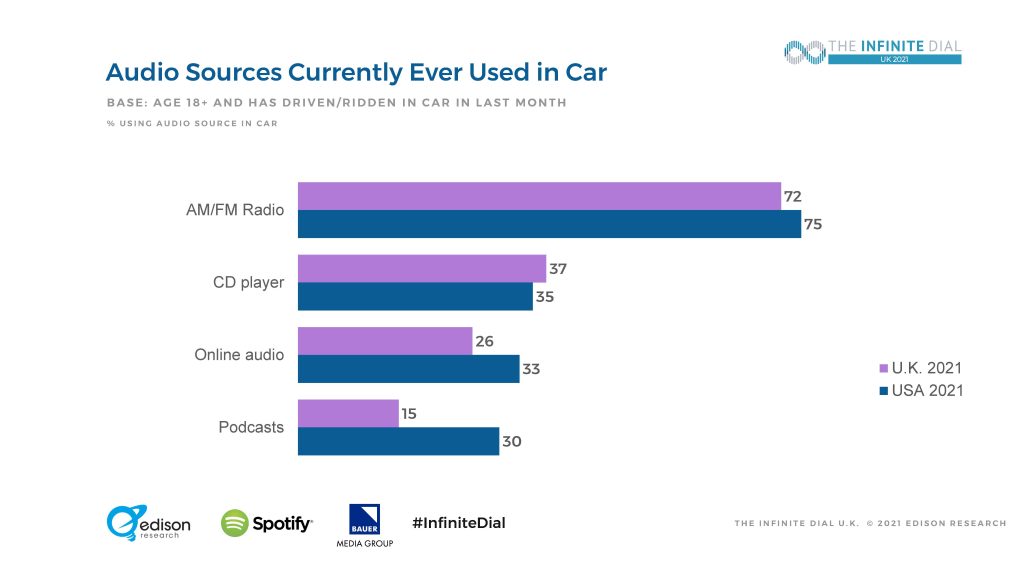 Radio vastly outperforms everything else, and many will be surprised that CD players remain as big as they do. It's only then that we get to various online audio services, with podcasts coming further back.
It does feel that UK car drivers haven't got their phones hooked up to their cars as much as Americans. And the podcast listening difference is noticeable. However, Americans use their cars much more. According to the Department for Transport the annual mileage of cars in 2020 was 6,800 across all cars. In this US, the average car driver did 13,800 miles in 2019. While the comparison is slightly different, it's clear that Americans drive vastly more than the British. Perhaps that lends itself to a greater amount of podcast listening?
And indeed, you can see that people in the UK are significantly less likely to plug their phone into their car, although suspect that this might in part be explained by car ownership being lower in the UK.
Online Audio Brands
Edison Research asked about (prompted) brand awareness of various audio brands – in other words, what had people heard of. And you can see that Spotify comes out at the top.
I think Amazon Music looks surprisingly high there – especially when you consider that BBC Sounds is only third.
But more interesting is the brands people actually use.
Spotify is the biggest here, with 30% of people using it across a month. But it's worth comparing with the weekly usage too (below) where it's 28%. That suggests that if you use Spotify, you use it consistently.
BBC Sounds is notable at being #2, but I think the surprise here is perhaps YouTube Music at #3.
My suspicion here is that some of this YouTube Music listening is "regular" YouTube use and not necessarily via the audio-only apps. We know from other research that many people – kids especially – use regular YouTube for their music listening, because it's convenient and it's free.
Amazon Music is bigger than Apple Music, which may surprise some. But there's a basic version free with Prime, and that covers a lot of people.
Podcasts
This may be the section you really were interested in.
Awareness of the term "podcasts" is at 71% which seems a little behind the other English-speaking countries that Edison Research surveys.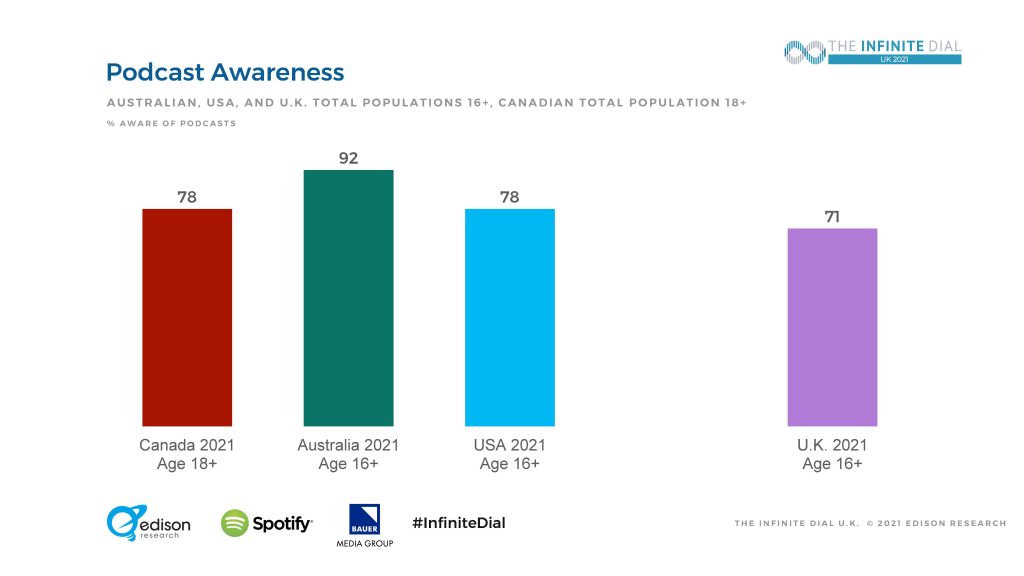 The more interesting numbers are those who listen. In the UK, 59% of people have ever listened compared with 57% in the US. But I think more interesting is those who listen with some degree of regularity.
According to Edison Research, 41% of the UK population have listened to a podcast in the past month. And that's relatively consistent across the various age ranges.
And that compares very well with other English speaking markets, being on a par with the US, and ahead of both Australia and Canada.
Larry Rosin noted that monetisation in the UK hasn't been as strong in the UK as in the US, but that these numbers might help that change. (For context, in April 2021, the IAB reported that UK podcast spending had grown a massive 43% in 2020 to £33m. This compares to $842m for 2020 in the US, with revenues projected to reach $1bn in 2021 and grow to $2bn by 2023.)
The gender and age splits for podcasting are very good, basically being on a par with the population.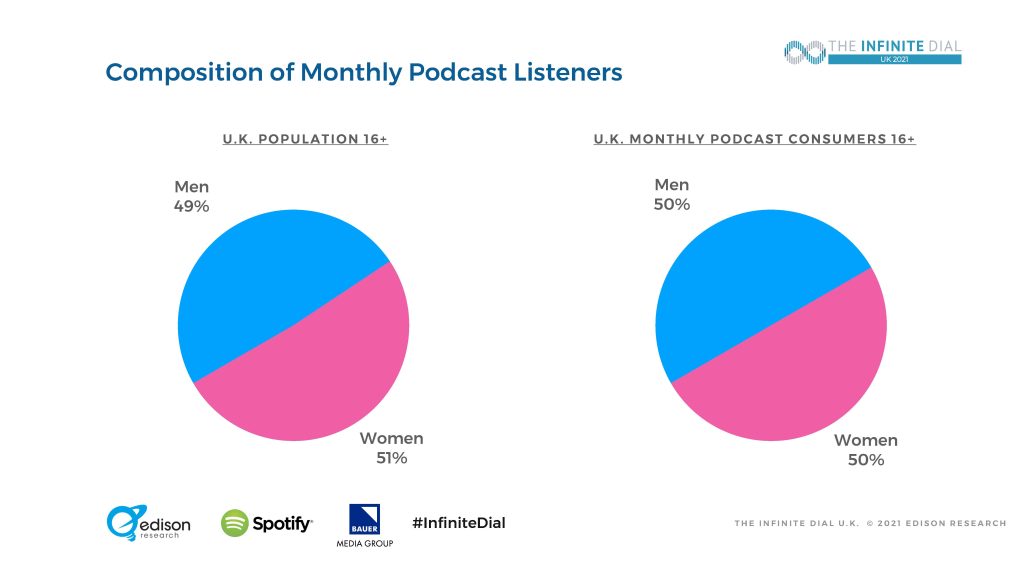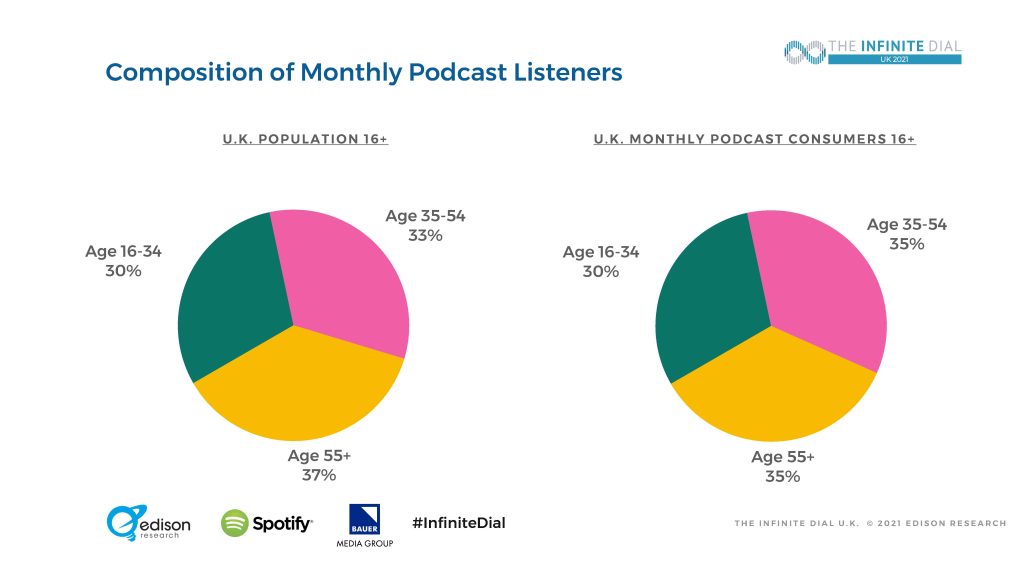 When you look at weekly podcast listening, the UK is just behind the US, but is pretty consistent with the rest of the English-speaking world, with 25% of the population listening weekly.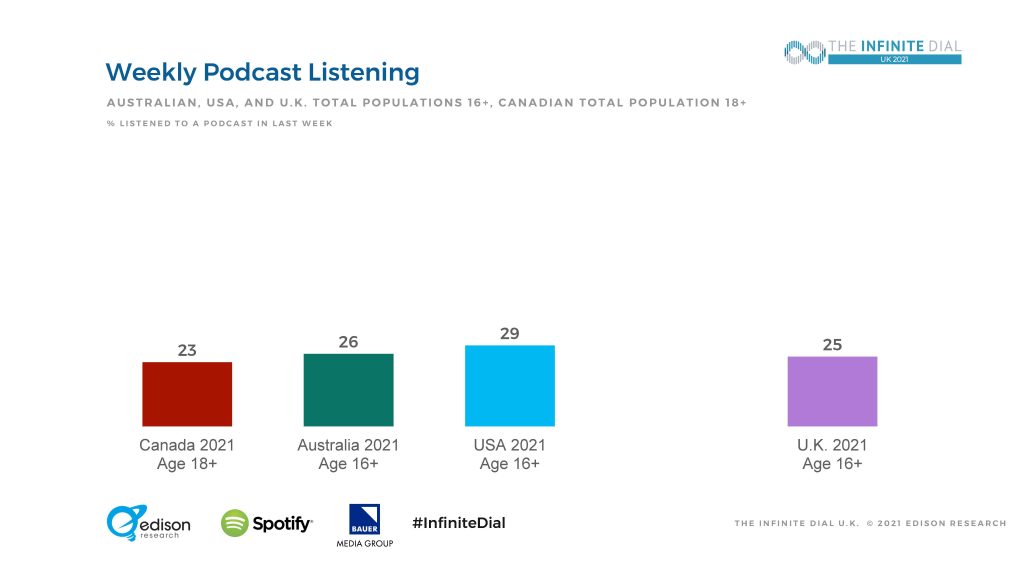 The final chart shows the number of podcasts people listen to. So if you listen to more than five podcasts a week, you're above average!
It's worth reiterating that you shouldn't compare these figures with those published by RAJAR who use a different methodology. And it's also worth saying that this survey doesn't really consider the time spent listening to each of these audio formats. Edison Research publishes a separate survey in the US called Share of Ear, and so far they've not conducted that in the UK.
But this is undoubtedly a valuable survey and well worth reading in full.
All data is copyright Edison Research and sponsored by Bauer Media and Spotify UK. Research was conducted in the fourth quarter of 2021, based on a national telephone survey of 1,000 respondents in the UK aged 16+ and weighted to the 16+ national population. The full results are published here.